Interpretation equipment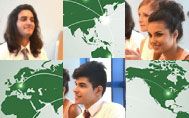 Simultaneous interpretation system equipment is now used at most international conferences. We have adopted such technology in our interpretation work for various important events.
Multiple-language simultaneous interpretation systems (ranging from those involving infrared and FM equipment to those based on simple simultaneous interpretation) and the cutting-edge audio equipment and AV systems used at academic conferences and other events require accurate operation by specialized personnel. Our technical staff are fully versed in all the skills necessary to meet customer needs in this regard.
Simultaneous interpretation system rental
and operation management
We offer a full lineup of equipment, including infrared and FM units.
AV system rental
We provide total coordination for equipment used at academic conferences and conventions, and can arrange, operate and manage systems tailored to individual conference sites.
・RGB projectors
・RGB displays
・TV monitors, LCD monitors
・DVD players, video decks
・Rear projection TVs
・Video cameras, camera peripherals and equipment
・Slide projectors and peripherals
・Screens
・Audio equipment (amps, mixers, speakers, etc.)
・Teleconferencing systems
・Conference microphone systems and wireless microphones
・Computers (Mac, Windows) and peripherals
・Academic conference kits (timekeeping circuits, chairman/ speaker display lights,
transceivers, laser pointers, desktop lights, bells, etc.)