Translation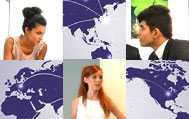 Translation requires a global perspective and an advanced degree of specialist knowledge. We use IT extensively in producing our translations to ensure rapid, accurate results.
As specialists in the field, we strive to produce faithful, speedy translations through close cooperation between our Japanese staff and our native-language reviewers. Our use of mother-tongue translators for direct translation ensures a fast turn-around.
Our translation expertise continues to grow, and encompasses an increasingly diverse range of disciplines including business, finance, law, information communications, medicine, environmental science and biotechnology – all areas that require high levels of specialization. We assign translators who are well versed in their specialist fields for individual projects to ensure high-quality translations that fully meet customers' expectations.
We have extensive experience in most languages ranging from English to a variety of European tongues such as French, German, Russian, Spanish, Portuguese and Italian, as well as Asian languages including Chinese, Korean, Thai, Indonesian and Mongolian. We also offer translation into multiple languages (for example, from Japanese to English, Chinese and Thai, etc.).
We provide translations in a variety of file formats, including Word, Excel and PowerPoint. Estimates are provided free of charge. Needless to say, we are committed to a policy of strict confidentiality, and are happy to issue individual privacy agreements (in Japanese or English) as needed.
Languages
English
French
German
Spanish
Portuguese
Italian
Chinese
Korean
Indonesian
Thai
other major languages
Fields
・Contracts, financial documents, legal documents, patents, family registers, family register extracts
・General correspondence, speech manuscripts, presentation manuscripts, specifications (manuals),
trade andtechnical documentation
・Financial, IT, mechanical, equipment, medical, biotechnology, environmental science,
civil engineering and other documents and papers
・Company brochures, PR brochures, pamphlets, annual reports
・Transcriptions