Overview
Interpreting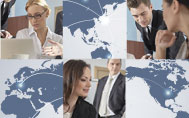 We maintain a wide network of simultaneous interpreters, both inside and outside Japan, to provide related services at international summits and conferences.
Our network enables us to offer interpreting services across a wide range of fields, and our dispatch system provides experienced, first-rate interpreters, helping to ensure the success of events, symposiums,
seminars, business negotiations and other occasions.
We also provide experienced interpreters to help clients meet and see off guests at airports in Japan, services for interpretation of reception emceeing, sightseeing guidance and more.
Interpreting types
Simultaneous interpretation, consecutive interpretation, whispered interpretation
Languages
English
Portuguese
Indonesian
German
Chinese
other major languages
Price list
Prices
Per interpreter per day
(up to 8 hours)
Per interpreter per half day
(up to 4 hours)
Each additional hour
(over 8 hours)
Sightseeing/attendant interpretation
From 35,000 yen
From 25,000 yen
From 6,000 yen
Business negotiation interpretation
From 65,000 yen
From 45,000 yen
From 9,000 yen
Meeting interpretation/speech interpretation (consecutive)
From 70,000 yen
From 50,000 yen
From 11,000 yen
Simultaneous interpretation
From 95,000 yen
From 70,000 yen
From 15,000 yen
・A full day of interpreter service is generally eight hours, with an actual interpretation time of up to seven hours,
or up to four hours for a half day.
・For simultaneous interpretation, two interpreters are used for meetings of up to three hours (with breaks),
three are used for meetings of up to five hours, and four are used for meetings of up to seven hours.
・For consecutive interpretation (other than sightseeing and business negotiation services), one interpreter is
used for a half day, and two are used for longer periods.
Preparation fees

For conferences or meetings lasting two days or longer, an amount equivalent to one day of interpretation service is added as a preparation fee. For highly technical content, preparation fees may also apply for conferences lasting less than two days.

Compensation

When interpreter transportation distances or times are extremely long (over 100 km or two hours), the following fees apply:


・Half day (up to 4 hours) for transportation on days without meetings :
Half-day interpretation fee x 1/2
・Half day (up to 4 hours) for transportation on days with meetings :
Half-day interpretation fee x 1/2
・When transportation takes 4 hours or longer, or when the interpreter is secured
for an entire day on-site :
Whole-day interpretation fee x 1/2

Accommodation/
per diem expenses

・When the interpreter is required to pay the entire amount:25,000 yen/day
・When accommodation fees are paid by the organizer:10,000 yen/day
・When accommodation fees and the cost of three meals per day are paid by the
organizer, or for single-day interpretation without accommodation :
5,000 yen/day

Transportation fees

・Express/rapid green car round-trip fares between main JR stations and
 destination
・Station JR/subway transportation fares between nearest station to interpreter's
home and destination station
・Destination station to/from conference/meeting site taxi fares/bus fares

Cancellation fees

・Cancellation 4 to 7 days before first day of conference :
30% of quoted price
・Cancellation 2 to 3 days before first day of conference :
50% of quoted price
・Cancellation day before or on first day of conference :
100% of quoted price