Interpreting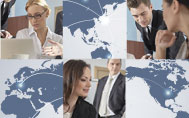 We maintain a wide network of simultaneous interpreters, both inside and outside Japan, to provide related services at international summits and conferences.
Our network enables us to offer interpreting services across a wide range of fields, and our dispatch system provides experienced, first-rate interpreters, helping to ensure the success of events, symposiums,
seminars, business negotiations and other occasions.
We also provide experienced interpreters to help clients meet and see off guests at airports in Japan, services for interpretation of reception emceeing, sightseeing guidance and more.
Interpreting types
Simultaneous interpretation, consecutive interpretation, whispered interpretation, online interpretation
Languages
English
French
German
Spanish
Portuguese
Russian
Chinese
Korean
Indonesian
Thai
Mongolian
Vietnamese
Myanmar/Burmese
Arabic
other major languages
Cities
Tokyo
Yokohama
Nagoya
Osaka
Kyoto
Hiroshima
Fukuoka
Sapporo
Sendai
Fukushima
other major cities