☆Kinder 2☆
2021.10.13
Hello again from the Kinder 2 classroom~!
Everyone is getting into the spirit of Halloween around the school with all of our fabulous decorations!
The Kinder 2 class has already made some bats that are currently hanging from the ceiling outside their room, but we felt the need to make some spooky ghosts to add to the decor!
In order to do this, we first went over what colors would be good for scary ghosts to have and we settled on orange, blue and black. We wanted to make flowy, see through shapes for our ghosts instead of just drawing them on paper so we had to get creative.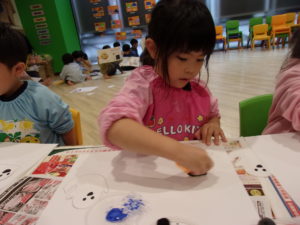 How will we make our ghosts? Huh, what are they holding?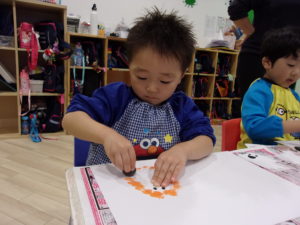 They're small felt balls! The texture was very different to things that we are used to having in the classroom, so we enjoyed being able to dip them in paint in order to make our ghosts.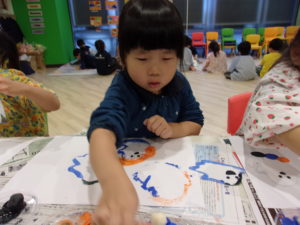 Wow! Look at all the different shapes and colors!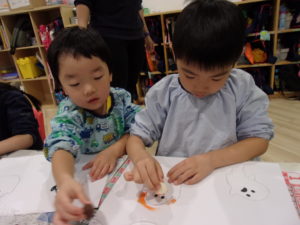 When we use paint in a big group we have to make sure to practice saying "thank you" and "you're welcome" when sharing!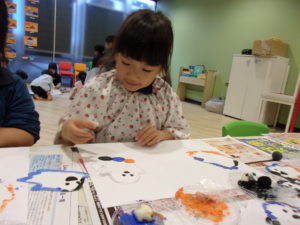 Because the felt balls were perfectly round and kind of squishy, our students were able to make different patterns and create different effects for every one of their ghosts-- it looks great!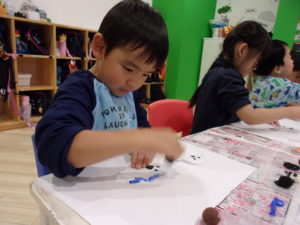 We had to be careful to hold on to our paper ghost stencils because they had a tendency to float right off the page!
When we finished all the painting, we got to draw faces for our ghosts before we hung them up to decorate our hallway!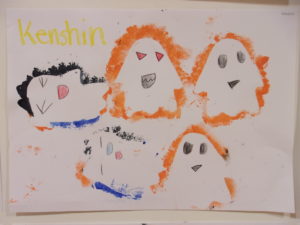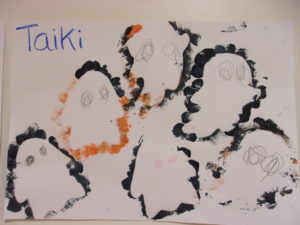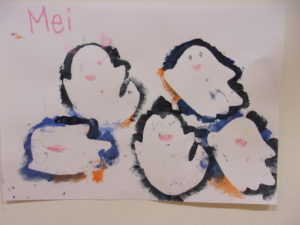 Next time you're in the building, make sure to check it out!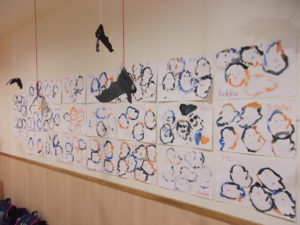 See you next time~!